Tuesday, 28 November 2023 00:00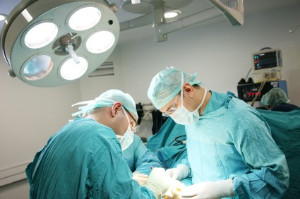 The Achilles tendon plays an essential role in your daily movements, facilitating activities like running, jumping, and even just walking. This tendon connects the heel bones to the calf muscles, allowing you to lift your heels and push up on your toes with ease. However, when faced with a ruptured or torn Achilles tendon, surgical intervention may be necessary to restore functionality and reduce the risk of re-rupture. An Achilles tendon rupture can occur during activities that involve sudden, forceful movements, or it may happen from chronic wear and tear. After such an injury, surgical options are required to reattach the torn ends of the tendon. The two primary options are open surgery and percutaneous surgery. Open surgery involves a single large incision at the back of the leg, while percutaneous surgery utilizes several smaller incisions. Surgeons may opt to wait a week post- injury to allow swelling to decrease before proceeding with either approach. In both cases, the surgeon sews the tendon back together through the incisions. Rehabilitation from Achilles tendon surgery is likely to take between six and nine months. For more information about managing an Achilles tendon rupture, it is suggested that you make an appointment with a podiatrist. 
Achilles tendon injuries need immediate attention to avoid future complications. If you have any concerns, contact one of our podiatrists of PA Foot & Ankle Associates. Our doctors can provide the care you need to keep you pain-free and on your feet.
What Is the Achilles Tendon?
The Achilles tendon is a tendon that connects the lower leg muscles and calf to the heel of the foot. It is the strongest tendon in the human body and is essential for making movement possible. Because this tendon is such an integral part of the body, any injuries to it can create immense difficulties and should immediately be presented to a doctor.
What Are the Symptoms of an Achilles Tendon Injury?
There are various types of injuries that can affect the Achilles tendon. The two most common injuries are Achilles tendinitis and ruptures of the tendon.
Achilles Tendinitis Symptoms
Inflammation
Dull to severe pain
Increased blood flow to the tendon
Thickening of the tendon
Rupture Symptoms
Extreme pain and swelling in the foot
Total immobility
Treatment and Prevention
Achilles tendon injuries are diagnosed by a thorough physical evaluation, which can include an MRI. Treatment involves rest, physical therapy, and in some cases, surgery. However, various preventative measures can be taken to avoid these injuries, such as:
Thorough stretching of the tendon before and after exercise
Strengthening exercises like calf raises, squats, leg curls, leg extensions, leg raises, lunges, and leg presses
If you have any questions please feel free to contact one of our offices located in Allentown, Easton, Northampton, and Chew Street in Allentown, PA . We offer the newest diagnostic tools and technology to treat your foot and ankle needs.
Read more about Achilles Tendon Injuries
Tuesday, 21 November 2023 00:00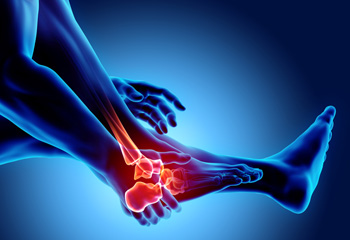 If you have ever experienced the discomfort of foot pain that strikes at night, you are not alone. This phenomenon can be both puzzling and distressing, disrupting precious sleep. There are several potential reasons why your feet can ache during the nighttime hours. One common cause of nighttime foot pain is plantar fasciitis, a condition that involves inflammation of the thick band of tissue that runs along the bottom of your foot. This inflammation can become more pronounced when you rest, leading to pain when you try to sleep. Another possible culprit is neuropathy, a condition characterized by nerve damage. Neuropathy can cause tingling, burning, and sharp pains in the feet, often worsening at night. Diabetes and other underlying medical conditions can contribute to the development of neuropathy. Restless Leg Syndrome, or RLS, is yet another contributor to nocturnal foot pain. Those with RLS experience an irresistible urge to move their legs, often accompanied by uncomfortable sensations like tingling or aching in the feet. This can disrupt sleep and lead to foot discomfort. Ii you are experiencing nighttime foot pain, it is suggested that you consult a podiatrist, who can identify the underlying cause and offer appropriate treatment methods.
Foot Pain
Foot pain can be extremely painful and debilitating. If you have a foot pain, consult with one of our podiatrists from PA Foot & Ankle Associates. Our doctors will assess your condition and provide you with quality foot and ankle treatment.
Causes
Foot pain is a very broad condition that could be caused by one or more ailments. The most common include:
Bunions
Hammertoes
Plantar Fasciitis
Bone Spurs
Corns
Tarsal Tunnel Syndrome
Ingrown Toenails
Arthritis (such as Gout, Rheumatoid, and Osteoarthritis)
Flat Feet
Injury (from stress fractures, broken toe, foot, ankle, Achilles tendon ruptures, and sprains)
And more
Diagnosis
To figure out the cause of foot pain, podiatrists utilize several different methods. This can range from simple visual inspections and sensation tests to X-rays and MRI scans. Prior medical history, family medical history, and any recent physical traumatic events will all be taken into consideration for a proper diagnosis.
Treatment
Treatment depends upon the cause of the foot pain. Whether it is resting, staying off the foot, or having surgery; podiatrists have a number of treatment options available for foot pain.
If you have any questions, please feel free to contact one of our offices located in Allentown, Easton, Northampton, and Chew Street in Allentown, PA . We offer the newest diagnostic and treatment technologies for all your foot care needs.
Read more about Foot Pain
More...