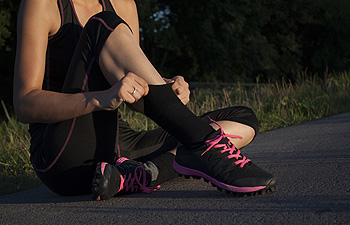 There are many running shoes available on the market, and they can usually be classified into five different types of shoes: motion control, stability, cushioned, lightweight, and trail. Motion control running shoes are designed to reduce any excessive rolling in your gait while you run and provide extra shock absorption. These shoes are especially useful for someone with an overpronated gait. Stability running shoes are designed to stop excess motion in the foot and ankle. Cushioned running shoes absorb shock and help protect the feet. Lightweight running shoes are more flexible and can decrease pain and fatigue while running. Trail shoes are designed to help you run on rugged terrain. They are usually more durable and have a better grip than other types of running shoes. To find out which running shoes may be best for you, it is suggested that you consult with a podiatrist. 
You should always make sure your running shoes fit properly in order to avoid injury. For more information, contact one of our podiatrists from PA Foot & Ankle Associates. Our doctors can provide the care you need to keep you pain-free and on your feet.
Choosing the Right Running Shoe for Your Foot Type
Improper shoe sizing can cause a myriad of problems for your feet. Shoes that don't fit you properly can lead to muscular imbalances in your body, which can result in foot, knee, and hip injuries.
Tips for Finding the Right Running Shoe
Make sure you have a thumb's width of wiggle room between the end of your longest toe and the front of the shoe.
There should be little to no slipping at the heel
Don't assume your size in one shoe brand will be your size in another
Do not lace up your shoes too tightly
Walk around in the store with your new shoes before you buy them
If you have any questions please feel free to contact our one of our offices located in Allentown, Easton, Northampton, and Chew Street in Allentown, PA . We offer the newest diagnostic and treatment technologies for all your foot and ankle needs.
Read more about Choosing the Right Running Shoe for Your Foot Type